How to Quiet Road Noise in a Car – 3 Easy Steps!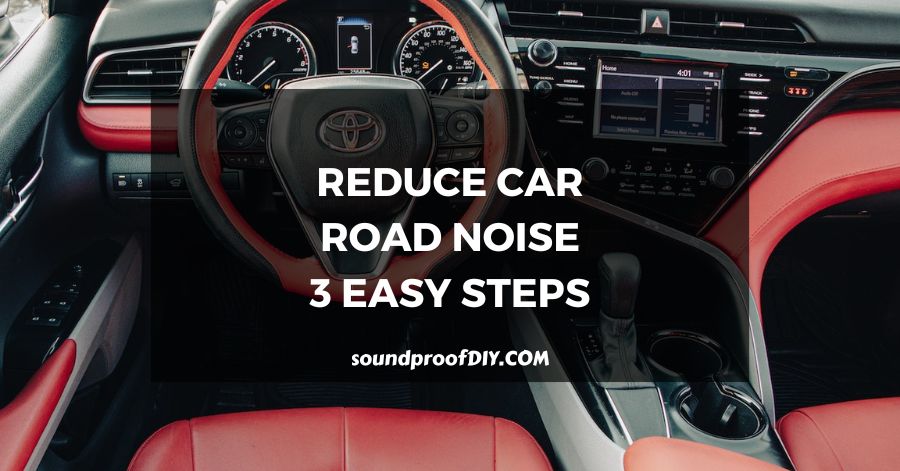 Not Just An Automobile:
The car may have been invented to be a convenient mode of transport. But over time it has changed drastically, however with still keeping its real roots and values intact. Henry Ford once said that "If I had asked people what they wanted, they would have said faster horses". They say that men may love their wives, but they love their cars even more. And not just men, but everyone has a very sweet spot for their car. It does not matter what you drive, how expensive, small or big your car is. The thing that matters is that you bought it with your hard earned money and hence you love it more than anything else.
Keeping It Ssshhh:
So by reading the title, you can already guess that I will be talking about how to quiet road noise in a car using the easiest of methods. The need to soundproof your car (CAPS) is immense, even if you might not be aware of it. Think of all the times when you wanted to have a conversation with your date or the times when you wanted to tell your father something really serious regarding life but couldn't ever do it because the noise coming from outside of the car was just too much.
However, unfortunately, not everyone is fully aware of how road noise ruins your driving experience and overall comfort in the car. Nonetheless, there are a number of different ways to quiet road noise, and I will surely be talking about them.
THE BIGGER ENGINE CARS:
Road noise is not the only thing that will make your journeys unbearable and disturbing. A car has a number of different parts attached to it. Not to mention the big engine. So when you drive your car all these parts tend to work together and as a result, it does end up making a lot of noise. I will also be talking about how you can fix that as well.
WHAT ARE THE MATERIALS AVAILABLE FOR USE?
The whole concept of soundproofing is very wide and stretches very far. Be it soundproofing a room or a car. However, I will try my best to make it as easy as possible so that you can get a better understanding and easily be able to soundproof your car from road noise. Now, coming to the question of soundproofing materials, there are a lot of different soundproof materials available for rooms and houses out there. However, when it comes to soundproofing a car, choice of materials is very limited. Because you can't really do much to a car alone. However, that is nothing to worry about. Because in this article I will be telling you in details how you can fully exploit these limited choices of materials and use them to their highest potential.
*FatMat Self-Adhesive:
Fatmat is an excellent company that specializes in making high quality and effective soundproofing mats. They have a very wide range of products available, and out of all of them, the FatMat Self-Adhesive will be an ideal choice for car soundproofing.
An Easy Installation:
These mats are very easy to install. You can do it all by yourself and you won't be needing any expert help whatsoever. The main reason why it is so easy to use is that you do not have to go through the hassle of gluing it or anything. As it has an adhesive on one side, all you need to do is apply the mat and you are done. The appropriate place to put these mats would be under the two front seats. However, that does not mean you are only limited to using these mats in those areas only.
The FatMat Self-Adhesive mats can be used in other areas of the car as well. Be it the trunk, the hood or even doors. The reason behind their abilities to block out all sorts of noises is because of something called butyl. Most sound deadening mats are made from butyl. And this one is no exception. The patented butyl rubber compound along with the protective aluminum not only gives the mats a nice look but also helps a great deal in blocking sound as well.
In addition to road noise, your car will also experience certain vibrations as well, that the FatMat Self-Adhesive mats can take care of very easily. An added bonus with this is that it comes with everything that you will ever need while installing these mats. This includes a roller, knife and an instructions guide. These mats also come in a number of different sizes as well. You can easily choose the ideal size depending on your needs.
How to Soundproof Your Car:
SOUNDPROOFING DOORS.
SOUND DEADENING MATS.
GET A NEW STEREO SYSTEM.
SOUNDPROOFING DOORS AND A BEWILDERING EXPERIENCE:
If you do a bit of research on how to quiet road noise in a car, the majority of results will suggest you to start with soundproofing your doors. Now, yes soundproofing your doors is very effective. However, it is not that easy of a process. This is why I wanted to talk about it a bit later in this article. Otherwise, I could have had started with it and then finished. But now, assuming that you have a bit of idea regarding soundproofing, you will be able to get a more clear view of the whole process of soundproofing your car doors.
Working With Limited Materials:
As I have mentioned before, soundproofing materials for cars are very limited, and in this case you will also need to use sound deadening mats. Even though there are soundproofing acoustic foam panels out there, I would recommend you to not use them because they would just end up adding a lot of weight to the car and eventually ruining the overall driving experience.
Now, that you are willing to soundproof your car doors, the most troublesome process would be taking off the first layer of the car door with all the screws and nuts. Do not put your mats on them. Even though this procedure is a bit tricky, you can easily do it yourself by watching a few videos. However, if you feel that it is not a job for you then you can just take it to a workshop and ask them to do it. The later part as I mentioned is much easier.
Before you apply the deadening mats, be sure to measure your doors first. Otherwise, you will end up buying a lot or even less then what you would need. Then cut the mats according to the size of your doors and then just apply them on. You can use these sound deadening mats from Noico. Just like Fatmat, they are also a company that makes good quality soundproofing products. Starting from mats to foam panels. They do it all. With these mats, you will be getting a very good alternative to rubber foams. And after using it you will surely find out that they perform even better than acoustic foams. When you will be using mats on your car, it is very crucial that they are safe to use. Otherwise, you never know what just might happen anytime. Thankfully, these mats have thermal barrier properties in them. Giving you good precautionary measures. The reason why I said that these mats will perform similar or better than acoustic foams is because they have the same insulating properties on them giving them the ability to fully absorb all the air noise.
As we tend to eat and drink at all times in our car, dropping water is something very obvious. And you might be a bit concerned about your soundproof mats. However, with the Noico WP 150, you won't need to worry about a thing. Because it is completely waterproof.
Sound Deadening Material Installation:
SOUND DEADENING MATS:
In addition to road noise, there is one other significant type of noise that is worth discussing as well. If you listen to it a bit closer you will easily be able to identify that most of the noise that ruins the car's environment actually comes from under the seats. And this is due to the immense parts and machines that constantly work together to make your car go forwards. Now, the problem is that car manufacturers do not apply their best technology in order to cover these sounds. The max that they do is use some sort of normal and thin mat in order to block out these noises. And as obvious, these don't work. However, in order to soundproof your car, you can use some other types of mats known as sound deadening mats. These mats look pretty much like usual mats out there. However, they have capabilities to prevent sound from entering a particular place. Even though there are a number of different types of mats out there, not every one of them will be very useful or efficient. You will also need to keep in mind whether the mats can be used on cars. Otherwise, there won't be any point.
GET A NEW STEREO SYSTEM:
So now you have looked at the ways of soundproofing and how you can so easily quiet road noise from your cabin. However, now you have come to the conclusion that you do not want to go through all this hassle of soundproofing. And most importantly, you do not want to ruin your car with mats and foams. Well, for you, I have a solution as well. If you are someone into music and always tend to listen to songs while you are on the road then what you can do is just get a new stereo system for your car. Now, do keep in mind that you just cannot go and get any sound system out there. It has to be good enough to block road noise.
Something like the Kenwood KFC-1665S would be an ideal solution for this. These may look like an average pair of car speakers, but they do provide a lot of sound and bass. The perfect blend to keep your car cabin nice and road noise free. They provide the max power of 300 with speaker and an RMS power of 30 with the speaker. Check out the Price on Amazon.
However, if you are looking for something a bit more intense and louder then go for the MTX Audio Terminator Series TNE212D 1. It is a much louder and more hardcore set of car speakers. Even though they come in a number of different sizes, I would suggest you get the 12-inch ones. Because they will be the ideal one. They come in a set of dual speakers and they alone can make much better and louder sound than any other three or four set speakers at this price point. Check out the price on Amazon.
YOUR FAVORITE PLAYLIST AND ROAD NOISE:
We all like to be snug and relaxed whenever we are in our cars. We want our cabins to be fully soundproof so that no noise whatsoever enters your car. For some people, listening to music is much more important than having a conversation. And also you will not always have someone to talk to. Nonetheless, the sheer excitement of putting your foot down on the highway while listening to Mozart's blissful orchestra is just something money can't buy. However, what money can buy is car soundproofing. Soundproofing your car will not only give you a much better driving experience but will also enhance your car stereo quality. As you will be able to listen much more of it.
THE EVOLUTION OF CARS AND A NOISE FREE FUTURE:
If you look back, the evolution of automobiles and cars, in general, have been just astounding. From huge and bulky road going cars to the super sleek sports cars that we see today, a lot of it has changed. And now as it seems is taking a completely different leap forward with electric cars.
Electric cars are now being considered to be the next big thing, with specialists suggesting that by within a few years the majority of the cars on the road will be running on electric batteries. Now you may wonder that what does this have to do with soundproofing. Well, it does. If you have ever been in or drove an electric car you will know that they absolutely make no sound. No sound at all. Their cabins are extremely quiet and this is due to two reasons.
First of all is because since there isn't an engine, it does not make the unnecessary noises that an average car would make. Secondly, most electric vehicles come with car soundproofing. This helps to block out road noise. If you are someone who drives an electric car then I am pretty sure that you do not worry much about soundproofing. However, if you still think that your electric car is making noise and you want to soundproof it, then you can easily use the methods that I talked about in this article.
"I WILL JUST GET A NEW CAR".
Well, if you are not really into soundproofing your car then you can always get a new car. However, even you know that it seems absolutely ridiculous of an idea. No matter which car you buy, other than electric cars, they won't be able to block out road noise. Even the most luxurious and passenger friendly cars aren't even able to do that. So the need to soundproof your car is imminent, no matter what.
Final Conclusion:
The whole process of soundproofing your car is a pretty easy and convenient one. However, people tend to make it extremely difficult, It is absolutely not. Just go through the ways and use the products that I talked about. And you would have no problem whatsoever.